Art Lives!
by Ken Collins on 10/04/10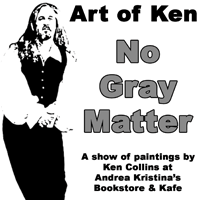 In my last post, I expressed a concern that I had been "too busy" to devote much time to my art. Well friends - I've certainly been busy, but not too busy for art!
I'm happy to announce my promised fall show, No Gray Matter, is complete and ready to be installed at Andrea Kristina's in Farmington, NM. The show will open during the Fall Art Walk on Friday, October 8, 2010 from 5:00 p.m. to 9:00 p.m. and will remain on display at Andrea Kristina's until November 30, 2010.
I will be there during the reception to meet everybody. If you can't make it to the reception, but don't want to miss out - fret not! I will broadcast the reception live over the Internet from Andrea Kristina's and you can tune it right here on my website and watch!
It has been great working on this show and I'm proud of it. This show will represent the beginning of my black and white style to the latest piece just completed last week. You won't want to miss it - paintings nobody has yet to see will be unveiled during this show - so come meet me, enjoy Wines of the San Juan, and be a part of our growing art community. See you there!